Custom Embroidery Services
Our embroidery department uses the latest creative and production software to stitch your logo or design on the clothing and accessories that you select for a completely professional effect.
About custom embroidery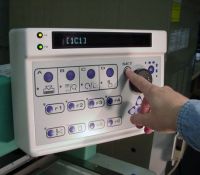 An embroidered design is a special kind of graphic. It is made of thread instead of ink, so it has a different texture and sheen. In an area filled with stitches, there are about 64 threads in every inch. In graphic terms, that would be "low resolution." That means that artwork (especially subtle curves and feathery effects) needs to be emulated rather than reproduced. We know how to emulate the intended shape with thread so the final sewn image will give the same impression as a printed logo or design, even if it is significantly simplified.
Embroidery is not the same as printing. What looks good on a business card may not work for embroidery. Small lettering, excessive detail or very small shapes don't lend themselves to reproduction in thread. They are difficult to work with and don't look good on the finished product. Lettering that is at least a quarter-inch high will sew out best.
Don't expect any finer detail than you can draw with a felt-tip pen (such as Flair).
You may use as many colors as are needed for your design, but most designs use up to 6 colors.
Our machines hold up to 12 different thread colors. For more than 12 colors, the design is sewn out with 12 colors, the cones of thread are removed and the new colors added, the needles are re-threaded, and the rest of the design is sewn out. Obviously, this makes a 16-color design much more expensive than if it has 12 colors or less.
Colors on a color sample card may look significantly lighter when they're sewn out, because of the sheen of the thread. A color card has threads lying flat next to each other. A design sewn on fabric has stitches that pull down into the fabric, and take the shape of the garment. There are many more highlights on the sewn design, making it seem lighter.
Artwork for custom embroidery
High-resolution art is not required. A business card will do for some logos and artwork from a website will often suffice for a color logo. Generally, the better the artwork or photo, the easier it is to work from. Artwork files smaller than 500k may be sent as an attachment to an email. Large, high-resolution artwork may be sent on floppy disk, zip disk or CD, in either Windows or Macintosh format.
Pricing a custom embroidered item
Generally our prices are based on the number of stitches in the finished design.
Digitizing: Since creating a new design is time consuming, the fees may be based on time rather than the number of stitches. A small but detailed logo may take more time than a jacket back design that uses simple filled shapes and lettering. We like to quote individually on digitizing charges.
Sewing:  The sewn-out design is priced by the number of stitches in the design. A larger design takes more time to sew. You may use our Price Quotation Request Form to get a detailed quote on your project.