Screenprinting Services
See your brand or design come to life in vivid color with our screenprinting!
Our screenprinting department will imprint your logo or design onto the clothing and accessories that you select from our online catalogs.
Screenprinting, or silk-screen, or serigraph, is the art of printing on fabric through a fine screen of nylon (formerly silk). Areas of the screen are masked off and ink is forced through the screen with a squeegee, resulting in an inked shape on the garment.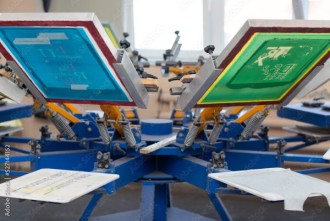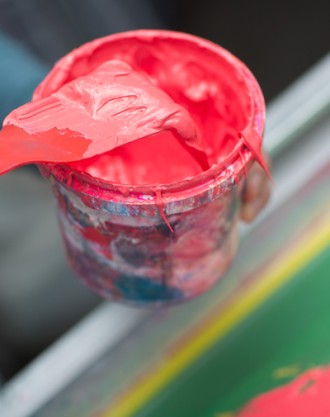 About screenprinting
Screenprinting uses one color at a time. Each color needs to dry before the next color is applied. When cured with heat, the screenprinting ink is both permanent and washable.
In the design shown, two colors were used on a royal blue garment. First, the white was laid down. The orange color in the artwork fades from dark to light, so white was laid down wherever the design called for orange. Once the white was dry, orange ink was applied.
It's not possible to print two colors at once by screenprint, so instead of actually mixing lighter and darker orange inks, we use one color and break it up into tiny dots to simulate mixed colors. The dots get smaller and farther apart as the color gets lighter, and gives us the smooth shaded appearance.
Pricing for screenprinted products
Our price for a screenprinted item depends on several factors.
Quantity and number of colors. The setup time required for 12 shirts is the same as the time required for 1200 shirts, so quantity discounts apply. We would almost never recommend screenprinting only 12 items; there are other options for low quantity garment graphics. There is a charge per item for each color, so the number of colors definitely affects the price.
Type of garment the artwork will go on. Different fabrics need different treatments. A very porous or dark-colored garment might need a white underlay for a brightly-colored design.
Since there are multiple factors involved in pricing, it is necessary to consider and quote each job individually.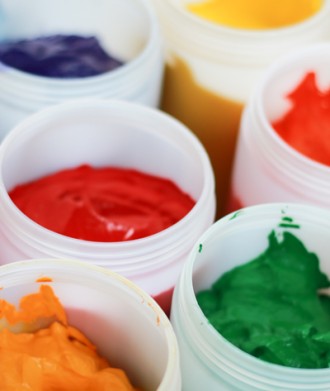 FAQs About Our Screenprinting
Yes. We prefer to supply the items for the project as we have an extensive collection of items to offer but, we do understand if we are unable to provide the exact item(s) in request. We have a $30 flat rate for customer supplied items over 12 pieces. We are not responsible for any damage that occurs to customer supplied items.
We can have your order ready within 2-3 weeks after design and quote approval.
For screenprinting, please supply the best artwork you can. Our design department will need to create art specially for screenprinting, so there is almost always an art charge. The easier your art is to work with, the less the charge will be.
We will be happy to talk with you about your options for screenprinted artwork. For instance, in the basketball design above, we knew the design was going on royal blue shirts, so we used the blue of the shirt to add an extra outline around the letters. This saved a color, and saved our customer 50% of the screenprinting ink cost.
To learn more about file formats and preparing your files to send us, please see our Artwork Requirements page.
We ask for a minimum of 24 pieces. This can be mixed between sweatshirts and t-shirts as long as the logo size and design is the same.
Yes, we can offer a color change fee for $15 per color.